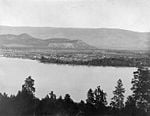 - Advertisement -
Kelowna (/kəˈloʊnə/) is a city on Okanagan Lake in the Okanagan Valley in the southern interior of British Columbia, Canada. It serves as the head office of the Regional District of the Central Okanagan. The name Kelowna derives from an Okanagan language word for "grizzly bear".[4]
- Advertisement -
Kelowna is the province's third-largest metropolitan area (after Vancouver and Victoria), its seventh-largest city overall, and the largest in the Interior.[5] It is the 22nd-largest metropolitan area in Canada. The city proper encompasses 211.82[2] square kilometres (81.78 sq mi), and the census metropolitan area 2,904.86 square kilometres (1,121.57 sq mi).[2] In 2019, it was estimated that Kelowna's population had grown to 217,229 in the metropolitan area and 142,146 in the city proper.[6] After many years of suburban expansion into the surrounding mountain slopes, the city council adopted a long-term plan intended to increase density instead – particularly in the downtown core. This has resulted in the construction of taller buildings, including One Water Street – a 36-storey building that will be among the tallest in Kelowna once completed in 2021.[7]
- Advertisement -
- Advertisement -
Nearby communities include the City of West Kelowna (also referred to as Westbank and Westside) to the west, across Okanagan Lake; Lake Country and Vernon to the north; Peachland to the southwest; and Summerland and Penticton to the south.
- Advertisement -
- Advertisement -